Mozio's Cancellation Policy has slightly changed and now offers two types of free cancellation:
Standard Cancellation.
Enhanced or Flexible Cancellation.

With our Standard Cancellation, as long as you cancel your booking online or with the help of our team within your cancellation window, you will receive a credit voucher for the amount paid for the ride cancelled which will be good for a year from the time of cancellation. The credit voucher will be sent to you in an email confirming the cancellation and can be used on any new booking made through Mozio.
Our new Enhanced Cancellation or Flexible Cancellation allows you to get a refund as a result of your cancellation online or with the help of a team member as long as you cancel within your cancellation policy. The refund will be applied to the same payment method you used when you paid for your reservation minus the fee for the Enhanced or Flexible Cancellation feature.
The feature must be added at the time of booking for this policy to apply.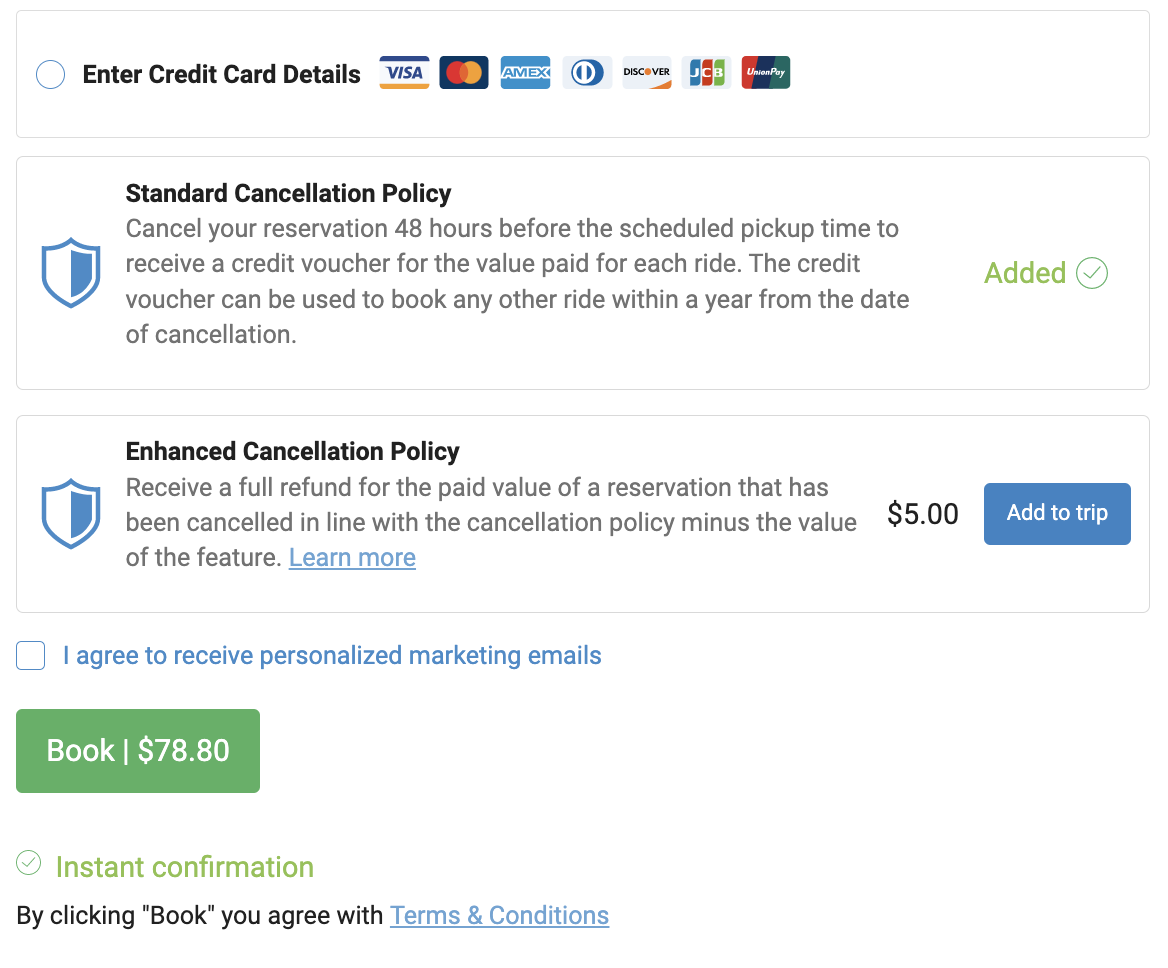 Some conditions apply:
"Mozio's Enhanced Cancel Policy or Flexible Cancel Policy" (from now on referred to as "the feature") is a feature that allows customers who opt in to receive a full refund for the paid value of a reservation that has been cancelled in line with the cancellation policy minus the value of the feature (from now on referred to as "prime") which will remain non-refundable in all instances.
Customers who do not opt in on the feature will receive a voucher for the value paid for the ride cancelled in line with the cancellation policy valid for use within a year of issuance on any service booked through Mozio.
The feature will need to be purchased at the same time of payment of the reservation. Once a reservation has been processed and paid, the feature cannot be added on.
Cancellation of a reservation outside the cancellation policy will not result in a refund in any case for the value of the ride nor the value of the feature.
Use of the service implies acceptance of the same regardless of the conditions the service was provided in and resignation of claim for a refund.
The paid value of the feature will remain non-refundable regardless of any other type of refund offered.
The value of the refund will match the full amount paid for the reservation and not the full amount of the ride. Coupons and discounts applied will not be taken into consideration for the refunded amount.